Teach your kids to be grateful by telling them this short story!
– Transcript –
In Animal Academy, there was a little bunny named Lia. She was a little white cottontail bunny who was well-loved by all her friends.
"I do so love the coat you are wearing today," she would say to her best friend DeAnna. "Thank you for the carrots you gave me," she would say to her mother in the morning.
Her happy attitude brought smiles to the faces of all those she met.
---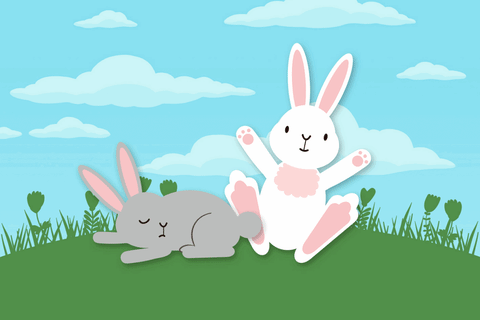 One day, a little gray bunny arrived in the academy. Her name was Mia and she crouched on one corner, looking glum.
"Good morning, Mia!" Lia eagerly greeted the new bunny. Mia looked up and gave a little grunt. Lia happily introduced her best friend, DeAnna, and pointed out the teachers and places in the academy.
Mia looked at her curiously. "Why are you so happy?" she asked. Lia paused for a moment. "Well, I'm happy because there are so many wonderful things in this world!" she exclaimed.
Again, Mia looked at her with a puzzled frown and asked, "Really? I'm always sad because there are so many things to feel sad about."
Lia looked at her new friend and thought about what she just said. "Well," she began, "That's true. But if you start the day thinking of just one thing you are thankful for, you will see how wonderful life could be."
---

The next day, Mia opened her eyes and looked around her as she woke up. "Good morning, Mia!" her mother said. "Your breakfast is on the table."
"Hmm," Mia thought to herself. "I guess that's one thing to be thankful for."
She got ready for school and began to hop around the lush, green valley. She thought about the little rocks and the roots that got in her way.
She stopped and looked around her.
She noticed the light peeking through the leaves. She saw the butterflies flitting from one flower to another. She saw bunnies, some on their own, some in colonies, hopping to school.
"That is a beautiful sight," she thought to herself. She continued on and entered the grove by the entrance of the academy.
Lia saw her and gave her a big smile. "How are you this morning?" Lia asked her.
"You're right!" Mia said, "There are so many things to be thankful for! I just had to open my eyes to see them."
Lia and Mia hopped over to DeAnna and the three friends happily went to their first class.
——–
This article originally appears in My Pope Kids' December 2017 issue. My Pope Kids comes as a FREE supplement whenever you buy a copy of My Pope Philippines magazine.